More and more engaged couples are opting for adventure elopement photoshoots. They're stunning, dramatic and a great way to convey a couple's personal love for adventure! But is the environment paying the price for these trending photo ops? As stewards of the outdoors, and lovers of love, let's continue doing our part to maintain and raise awareness for outdoor ethics when choosing to have these epic adventure elopement photoshoots. Here's everything you need to know for having the environmentally responsible photo session of your dreams.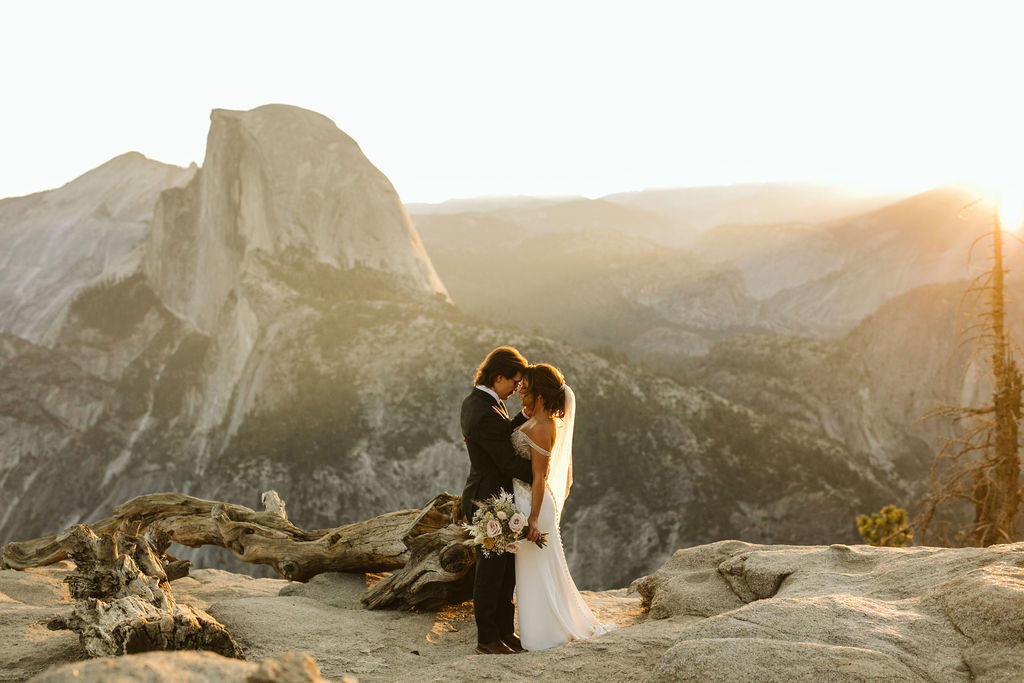 Meet Kelly Lemon, Adventure Elopement Photographer
I met adventure elopement photographer Kelly Lemon when she still lived in Vail, an hour east of Carbondale, Colorado, a few years ago. As two Colorado-born creatives passionate about female empowerment and environmental advocacy, as well as being two adaptive outdoor athletes, I had a feeling we'd hit it off—and we did.
We teamed up for SheLift photoshoots followed by a women's empowerment workshop series in Boulder, New York, and Chicago. Most recently, Dylan and I had the sheer joy of getting our engagement photos done with Kelly, which also turned into an awesome learning experience for me as a storyteller.
Beyond her talent behind the lens, Kelly is a certified Leave No Trace elopement photographer, a concept that I was introduced to during our pre-wedding shoot.
Leave No Trace Adventure Elopement Photography
As an avid hiker, skier, and standup paddleboarder, I'm a huge proponent of Leave No Trace principles in the outdoors, whether I'm on water, trail, or snow. And now, that goes for adventure elopement photos, too.
Developed by the nonprofit Center for Outdoor Ethics in the 1970s, the seven rules of etiquette include:
Prior to our espousal, I didn't know that these principles umbrella into elopement and engagement photography, which has become wildly popular, especially with the rise of social media platforms like Instagram.
As soon as we started planning our special day, Kelly shared that she's a LNT-certified photographer, meaning she completed the Leave No Trace for Elopement Photographers online course, in 2021.
"We should empower elopement photographers to realize that they have a responsibility and opportunity to educate couples as they turn to us for guidance and as we take them into the wilderness. A lot of couples are excited to learn and many times, just don't know outdoor etiquette. It's important to do our due diligence for the area in order to take care of that place and the earth we're on," said Kelly.
More nitty-gritty details about the course are available via the Adventure Instead Academy, and all of the proceeds support the nonprofit.
Here are the top ways that LNT elopement photographers can help protect the environment, based on Kelly's expertise for your upcoming Adventure Elopement Photoshoot.
Stay on Trail
Whether the goal is an adventure elopement photoshoot or engagement shoot, "As we prepare for our day, we talk about traveling on durable surfaces or trail only. I gently let clients know that if there are wildflowers, we won't step into those fields unless there are designated trails. There are a lot of great ways to capture wildflowers while staying on trail," explained Kelly.
Arid and semi-arid ecosystems are full of cryptobiotic soil crusts, which is another reason why it's essential for foot travelers to follow designated routes. Cryptobiotic soil is comprised of tiny organisms including algae, fungi, and cyanobacteria, all of which support plant biodiversity, reports the U.S. Department of the Interior. Once trampled, the fragile soil can require several years, several decades, or several hundred years to redevelop.
Pack Out Props
Confetti, champagne bottles, dried flowers, wood backdrops: A range of props often add creative flare to the special experience but can impact the surrounding environment.
"Throwing confetti is a popular wedding trend but in nature, the confetti gets caught in the wind and spreads all over the environment, leaving trash for wildlife to find and it doesn't decompose," said Kelly, so the bits are best to forgo.
Props that are carried in should be packed out including wooden archways and popped corks. Also, remember to bring along WAG bags and poop bags to carry out human and pet waste.
Carefully Curate Florals
Dried flower arrangements and bouquets cannot be carried into certain locations, including a handful of national parks, where the environment is sensitive to invasive species.
"Make sure your floral designer uses sturdy florals and avoids flowers, dried elements, or decorative texture pieces that shed seeds," said Kelly and added, "For instance, dried Pampas Grass are popular, but they can drop seeds that are nonnative. Places like Great Smoky Mountain National Park have restrictions for florals and in the past, haven't allowed cut or dried flowers of any kind for weddings or elopements."
Alternatively, clients can carry artificial florals.
Respect Wildlife
Getting too close or touching wildlife, as well as feeding creatures, can cause stress to animals that changes their behavior patterns and ability to survive. Being too loud likewise increases stress on surrounding wildlife and can trigger them to run away.
The necessity for safety goes both ways: some creatures carry disease that is harmful to humans.
"We need to respect wildlife for the safety of our clients and ourselves but also for the safety of the animals, especially in places like Hawaii, where it's very easy to get close to a sea turtle or seal on the sand for a selfie," said Kelly.
Consider Social Media
Unfortunately, social media can enhance the overcrowding and exploitation of precious places, so much so that Leave No Trace introduced social media guidelines.
One LNT step is to "Think Before You Geotag" specific locations. Choosing a broad or no location tag can encourage viewers to further research the area before a trip and, hopefully, help steward that location.
"When I scout a secluded location on public land, my couples are excited to have their own private, beautiful hidden gem. I don't geotag those exact locations, in order to help keep that place pristine. Visitors that work to find those types of spots, too, often take good care of it," shared Kelly.
If a peer approaches her about knowing a photo location, she shares the information when that response is responsible. "When I know people are going to take care of that space, I want those people to know about that awesome trail," she said.
Captions are a great place to offer LNT education, said Kelly, such as letting the audience know that they did not travel off trail to capture imagery of wildflowers.
Check for Requirements
Many national parks require wedding, engagement and adventure elopement photo permits.
"It's not hard to get a permit and rangers are happy to give you information about how to better protect our parks," said Kelly, who recently checked with Olympic National Park regarding an engagement shoot permit on the beach.
Given the group was fewer than five people, a permit was not required. That said, if she returns for another project, she'll check again, because regulations often change.
Other popular locations, such as Rocky Mountain National Park, now feature restricted or banned locations for adventure elopement photos and wedding photography, due to mass volumes of people. Call land managers ahead of time to learn the most recent guidelines.
Plan Your Transit
Consider how to mitigate our travel footprint: every step counts.
As Kelly shared, "Carpooling with couples is one less vehicle that's pumping out emissions into our environment. With the release of vaccines since 2020, people are more interested in carpooling again."
Create Community
While more recreationists aim to preserve special places, it's important to encourage inclusivity and uplifting each other through shared information rather than shaming one another for mistakes or lack of knowledge, said Kelly.
"We all mess up and we all learn. Instead of living in guilt, think about how you could do it better next time you are out on trail," said Kelly and added, "I encourage photographers to form and connect with a community of like-minded photographers, because that's how you can learn and grow together. Let's start a conversation."
Co-written by Morgan Tilton, Adventure Journalist